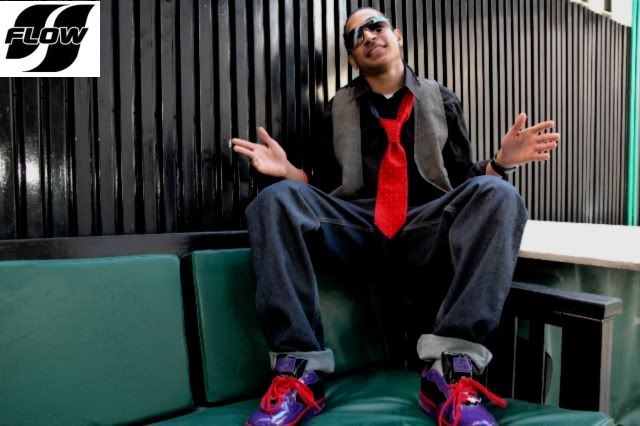 by Sidik Fofana
Angelo Pancrazio Gulotta aka Flow is too cool for comfort. Mix the lyrical dexterity of a Lupe Fiasco, the sex appeal of a Chris Brown, and the business acumen of a young Russell Simmons, and you have the dashing eighteen-year-old rapper and entertainer. He's one of those few people who gives you that rare notion that you're in the presence of someone special, someone worth snagging a picture and/or autograph of as an investment for his inevitable stardom.
Flow's industry-toppling debut EP, Breakfast of a Champion, is the beginning of that road of stardom, that where-were-you-when type of release. Backed by the singles "Dressing Room" and "Carousel" produced by Racharm of the Da Rocwilder's camp and having worked with several industry big wigs including 88 Keys, Ed Lover, and Lloyd, Flow has had no trouble breaking the glass ceiling that plagues most rap amateurs. He has performed at Radio City Music Hall and Madison Square Garden, made televised appearances on Entertainment Tonight, Fuse TV, MSG Network and collaborated with primetime labels like Jive and Interscope. "Those are major venues and I've been so thankful for that," says Flow. "I know a lot of superstars who haven't hit those venues yet and I've already had a chance to do those."
Born October 9, 1991 in Sicily to Jamaican and Italian parents, Flow demonstrated a flare for the arts at an early age. Raised in Brooklyn, he started his entertainment career at the tender age of four, gracing the big screen beside Chris Rock in Pootie Tang and Nicole Kidman in Birth after being chosen out of over 300 children. He also worked as a child model for the Gap and Old Navy in addition to securing print jobs or several academic textbooks.
However, it was until the age of eight that Flow engaged in his main love affair. Following in the footsteps of his grandfather, a famous Italian musician of the same name, he discovered rap after hearing a Ludacris song on the radio and tried to rap along. "My mom was like, 'Oh, go take a shower' and when I was about to take a shower, I just started trying to rhyme," recalls Flow. "Ever since that day, I always go in the bathroom, look in the mirror, and rap about what I see."
As an adolescent, Flow would combine the lyrical wizardry he honed as a child with his people skills to make his first major steps in the industry. New York nurtured a young Flow with opportunities to publicize himself and he quickly started performing at venues throughout the tri-state area. After establishing himself as a force to be reckon with, Flow and his parents decided to take his act to the west coast where they settled in Bloomington, California. Flow got to work formed the trio 3 Shades Deep as well as hosted his own internet radio show on X.Radio.Biz, one of the top independent radio stations at the time. With unrelenting work ethic, Flow quickly separated as a star in the group and made connections as a solo artist. "I do homework," Flow says confidently. "So when somebody says spit, I always have something ready because I write so much."
Midway through high school, Flow moved back to the Brownsville part of Brooklyn where his charisma and networking reinvigorated his east coast presence. As a 16 year old, he opened up for BET comedian, Brooklyn Mic (Chappelle Show) and hosted What's Up New York, a TV show on BCAT covering major events in Brooklyn. The show allowed Flow to get his name out there all while meeting important figures in the entertainment. Heads really started turning when Flow put out the freestyle, "Prince of Brooklyn". That led to a sit-down with record producer 88 Keys (Mos Def, Talib Kweli, Macy Gray, Musiq Soulchild and Consequence) where the two immediately began collaborating on "Success", a song about the thrills and ills of the music industry and like that Flow's became an industry player.
To this day, Flow continues to beef up his resume. He recently teamed up with Lloyd's for the "Party Girl" remix which spun on Hot 97. In the spring of 2009, Flow participated in the Teen Idol Extravaganza and performed the heart-wrenching poem "Colors of Love" at Radio City Music Hall in Manhattan. The poem amazed the audience, in particular Michelle from Destiny's Child, and the event was later televised on E! Additionally, Flow graced the stage during an event for Congresswoman Evette Clark and rocked a crowd of over 2,000 at Madison Square Garden for the New York Liberty's halftime show.
As an artist on the verge, Flow's present accomplishments pale in comparison to what's in store for him in the future. As he continues to unlock doors, he has put his eggs in different baskets, excelling at school, plowing his way to fruitful music career, and securing himself business-wise. "Angelo is a down-to-earth cool person," he says calmly, "but Flow is the beast, and when it's time to perform I transform." Now that's a champion.